Tularosa Public library is scheduled to reopen on Wednesday, 2 June 2020!!
All COVID-19 restrictions put in place by Governor Grisham will be followed.

Please be prepared for the following changes:
HOURS OF OPERATION
Tuesday thru Friday: 11:00 AM to 5:00 PM
Saturday: 10:00 AM to 3:00 PM
Sunday: Closed
Return all library media through the outside dropbox.
Patrons over the age of 2 must wear a face covering (exceptions for medical conditions). Staff will wear masks and rubber gloves when working.
Social distancing guidelines will be followed in the library and while waiting to enter the facility. Entry and exit will be through separate doors.
Patrons must sign in (name, telephone number, and address) to comply with the current State rules concerning tracing. There is a 1 (one) hour time limit for each patron visit.
A maximum of 7 (seven) patrons is allowed in the facility at one time.
There will be no children's play or craft area available.
Books and DVDs will be sanitized and held for the appropriate times before being returned to the shelves. The facility will be disinfected on a routine basis.
Please help us follow these guidelines. Thank you in advance for your cooperation.
LOOKING FORWARD TO "SEEING" EVERYONE AGAIN SOON.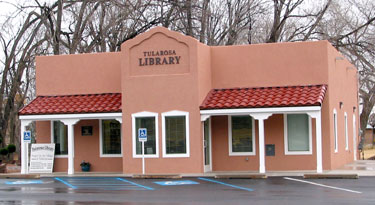 SUMMER READING PROGRAM
WHO: 6-12 Year old
WHEN: June 15 thru July 17
WHERE: Wherever you are!
CONTACT: Call (575) 585-2711
Services / Programs
Storytime
Summer Reading Program
After School Programs
Book Talks
Book & Bake Sales
Computer Classes
Linda Vigil -- Librarian
TularosaLibrary@Yahoo.com
515 Fresno St.
Tularosa, NM 88352
(575) 585-2711
TularosaPublicLibrary.org -- all rights reserved